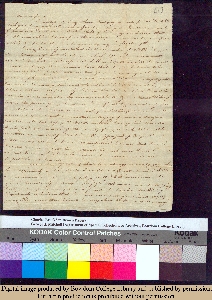 ―

[page break]

―
My dear friend
I am extremely Sorry to hear that you are indisposed. The debt
which you have, with so much difficulty, discharged, I could have easily
forgiven you. Think me not the Slave of Ceremony, and believe that
the pleasure which I derive from the employment, would be a sufficien
motive to uphold this correspondense by my single strength
I may be easily mistaken in the character of W.W.W. I lay no
claim to sagacity, but the opinion which I formerly avowed with
regard to him, will, untill experience shall confute it, be still the same
I need not say how desirous I am that it may be proved to be
erronious by that infallible criterion. Nothing can be more agreable than your
assuranses of his courage and perseverance: unparalleled and indefatigable
That nature has endowed him with the sublimest talents I have always firmly
believed, but, as it too frequently happens, those talents appear to me to be
encumbered and impeded by unconquerable levity and thoughtlessness—
Forgive the freedom of my observations. I am affraid they are not only free
but petulant. This indeed is a moment of unhappiness. I am a prey to
repeated disappointment and unsatisfied longing; forgive me therefore
and shew not that passage to W.W.W. without shewing him this also
It will furnish some excuse for the severity of my remarks. His amiable
quallities are numberless. I love him with a virgin's fondness. His faults are
virtues in my eyes, —but is he all perfection?. Is he all that I desire?
I would he were, and yet how irrational the wish, since though he were
all that I desire him to be, he would not, in consequence, be more
perfect than at present
You ask me if I think that he is always internally gay when
he is apparently so. Why should I adopt a different opinion? Is there
any uncommon merit in counterfeiting gayety? Is it ignominious to be
serious? Singularity is always a proof of a little un narrow understanding
I will not impute to my beloved friend, the frivolous Ambtition of
Singularity or believe, that he wears an aspect of continual gayety
for no other reason than because he may shew his power of disguising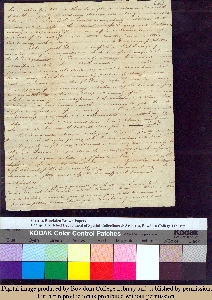 ― [page break] ―

his emotions. You tell me that he is often sad when, in the midst
of mirth and gayety. That is very strange, and wholly unaccountable
What is his motive? Is his character so singularly constituted that
his wit and laughter is the natural & necessary consequence of internal
sadness and despondency? There is some difference between seriousness
and sadness. Our sadness ought not to shew itself in conversation,
but it may, with propriety dispose our minds to seriousness. What is
more amiable in youth than seriousness? By which I am far from
meaning sternness and morosity, and which is perfectly compatable with
Smiles and genuine wit, but is utterly a stranger to merriment without
intermission, and laughter without cause. Our sorrows ought, in our
promiscuous intercourse, to be studiously concealed. Heaven knows that
this is a rule which I have invariable practiced for these four years
past, but I never aimed, though I may possibly have been some =
=times, by resistless and momentary impulses or by the desire to conform,
been carried beyond that mildness and serenity of air and manners
which is a source of purer satisfaction both to ourselves and others than
is to be derived from boistrous mirth and unceasing laughter. Do not,
my friend, confound sadness with serenity; nor believe that we can avoid
avoid sadness only by excessive and unseasonable merriment. Is he only
happy and agreable to those about him, who is perpetually risible and
who never opes his mouth but out there flies a Trope Jest?
Wilkins, ever condescending and obliging, thinks his gayety displeasing
to me, and will, therefore, for my sake, become serious. Tell him that
he will greatly heighten my displeasure in becoming serious merely to
oblige me. I need not expatiate on the impropriety of such conformity
I would rather forever seclude myself from him than occasion any the
slightest change in his deportment. We are frequently together and then
he finds it impossible to be equally gay, as when in company with
others more sprightly, and surely this is a sufficient penance and
mortification.
But I am affraid you will laugh at me. I scarcely know who
I write. I cannot but hesitate whether to send or to retain it, it is written
in a disposition so remote from ease; so unfavourable to candour—
What a pother is here about jests and smiles, as if no man had a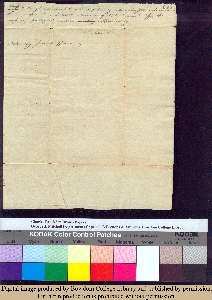 ― [page break] ―

white ‸ right to laugh and weep, to whine piteously and utter jests whenever he
thinks proper. I am, in truth ashamed of it, but must deffer the
necessary apollogies to another meeting. opportunity.
C.B.B.


Saturday. June 9. 1792 ~