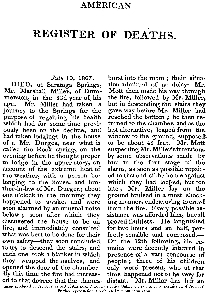 ―

71

―
AMERICAN

REGISTER OF DEATHS.
July 10, 1807.
DIED, at Saratoga Springs,
Mr. Marshall Miller, of Dum-
merston, in the 53d year of his
age. Mr. Miller had taken a
journey to the Springs for the
purpose of regaining his health
which had for some time previ-
ously been on the decline, and
had taken lodgings in the house
of a Mr. Durgea, near what is
called the Rock spring, on the
evening before he thought proper
to lodge in the upper story, on
account of the extreme heat of
the weather, with a person be-
longing to the house, and bro-
ther-in-law of Mr. Durgea; about
one o'clock in the morning they
happened to awake, and were
soon alarmed by an unusual noise
below; soon after which they
discovered the house to be on
fire, and immediately consulted
what was best to be done for their
own safety—they soon concluded
to try to descend the stairs, and
each one took a blanket in which
they wrapped themselves, and
opened the door of the chamber.
By this time the fire had increas-
ed to that degree that the flames

burst into the room; their situa-
tion admitted of no delay—Mr.
Mott then made his way through
the fire, followed by Mr. Miller,
but in descending the stairs they
gave way before Mr. Miller had
reached the bottom; he then re-
turned to the chamber, and as the
last alternative, leaped from the
window to the ground, supposed
to be about 45 feet. Mr. Mott
suspecting Mr. Miller's intentions
by some observations made by
him in the first stage of the
alarm, as soon as possible repair-
ed to that end of the house against
which they had lodged, but too
late; Mr. Miller lay on the
ground bruised in a most shock-
ing manner, endeavoring to crawl
from the fire. Every possible as-
sistance was afforded him, but all
proved fruitless. He languished
for two hours and an half, per-
fectly sensible and composed. ——
On the 12th following, his re-
mains were decently interred in
presence of a vast concourse of
people; three of his children
only were present, who at that
time happened not to be very far
distant. Mr. Miller has left an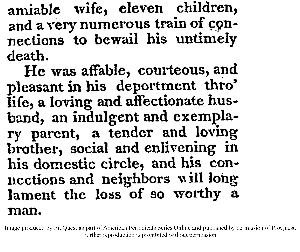 ―72―

amiable wife, eleven children,
and a very numerous train of con-
nections to bewail his untimely
death.
He was affable, courteous, and
pleasant in his deportment thro'
life, a loving and affectionate hus-
band, an indulgent and exempla-
ry parent, a tender and loving
brother, social and enlivening in
his domestic circle, and his con-
nections and neighbors will long
lament the loss of so worthy a
man.